Tiny background on me:
I'm on my 2nd e46m3 but I've had 12 or so different BMWs over the years (mostly M cars), a few Hondas (eg,ek,s2000,cl tsx), 2g Eclipse GSX, and spent a lot of time with a Porsche Cayman GTS. I've done thousands of miles on track driving everything from spec Miata and spec RX7 to my current 450hp time attack Honda Civic hatchback. I'm an engineer by trade but much rather be working in the garage. So while I am no suspension expert, I've definitely spent some time behind the wheel of some very well handling cars. But it goes without saying, these are my thoughts - so take them with a grain of salt. So let's start...
What I wanted and options:
My first e46m3 was a true ZCP car. The suspension was Bilstein PSS9s coilovers (Basically the same as PSS10s, but with fewer clicks of adjustability), Ground-Control camber plates front and arms rear, Turner swaybars F&R, and Brembo GT F&R. It has aftermarket bushings, all the subframe reinforcements, and so on. All the work on the car was done by Turner for the previous owner. It was very well sorted and drove really well. I really like the Bilsteins, they have some of the best shocks in the business for the money. However, it's not perfect. While they are height adjustable, by lowering the bottom spring perch you reduce shock travel - basically, the lower you go the less shock travel you get which really limits the height adjustability part. The springs are progressive so while the ride is fantastic most of the time, hard impacts can slam them into the bump-stop and upset the car. Very little if any NVH, quiet around town / down my driveway. The springs are a bit soft for my liking and driving style.
My 2nd e46m3, the Phoenix Yellow or PY from now on, came with KW V3s. I did not like these very much, although I didn't really give them a full go. The car was too low when I bought it and crashed into the bump-stops constantly, the springs felt really soft and would never settle, and the dampers were leaking oil (probably from being too low). I've never been a fan of twin-tube dampers either. They had similar problems to my first PSS9s where height adjustability would limit suspension travel. Plus the spings were just too soft for my driving style. And the absolute worst part about KW is they will NOT re-valve the dampers for different spring rates, you need to move up to the "club sports" for them to do that. They also will not sell parts to a 3rd party company so if you want to rebuild them you have to send them back to them which costs at a minimum $180 per shock.
My "wants" were fairly simple: 20% street/city/freeway, 70% back roads, 10% track. I don't have an unlimited budget. I wanted a lot of adjustability. I wanted custom non-progressive spring-rates. I really wanted height adjustability without affecting shock travel. I wanted something with good customer support, a good warranty, and the ability to upgrade/re-valve/change later on. I wanted a mono-tube damper design - inverted would be a plus.
My shortlist was:
AST 5100
Bilstein PSS10
Fortune-Auto (FA) 510s / Mullers
Ohlins R&T
They all good in their own way. The AST & FA can be ordered with custom springs/configurations. FA's have fantastic support and warranty. The Bilsteins have a great damper design and good value and the whole out-of-the-box-just-works. The Ohlins are Ohlins - I don't think you can find anybody that has bought a set that regrets it.
The first one to get kicked off the island was Bilstein. While I think its one of the better under $2k suspension setups for a "street car" out there, I wanted more adjustability and non-progressive springs. And the idea of buying the PSS10s, custom springs, and then hoping the dampers are going to be happy with the spring rates I chose or having to sending the dampers back to Bilstein to make them as I want them seemed silly.
The 2nd to get kicked off the island was Ohlins. While it's a great street/track setup, I like things my way and you can't order them custom configured. And just like the Bilsteins, I didn't want to buy springs and just hope they work together.
The 3rd to get the kick was AST. The 5100s are really good and you'll find a lot of good reviews here on the forums. While you can get custom spring-rates and custom valving, you're definitely paying a premium. They start at about 50% more money to the FAs and go up from there. They're extremely well-made though and check most of the boxes. They're also beautifully made with beautiful billet pieces and have all the bling bling.
In the end, the FAs won by checking more boxes. It's a great value and has the best warranty (5 years!), excellent customer support, and endlessly configurable/customizable. Plus I can upgrade/re-valve later if I want easily.
Who is Fortune Auto?
They're one of the few US based suspension manufacturers that engineers, assembles, inspects, and services shocks. They're heavily involved in racing, from grassroots clubsports to Formula Drift and they are the official suspension supplier of Global Time Attack.
What do they offer for the e46m3?
Just about anything, really. Because everything you order from them is custom-built for your application, you can order everything from a simple one-way adjustable "500-series" coilover for a street car to a 3-way external reservoir "dreadnought-series" full race coilover. From street to stance, drift to road racing or rally - you'll probably be able to help you.
What are the FA MSC Mullers?
Fortune Auto Muller line of suspension components are the result of a joint development team of Fortune Auto engineers and Muller suspension specialists. They feature 1-way 24-step rebound adjustable digressive piston mono-tube damper, Swift Springs of your choice, and pillow-ball front camber plates. They're not a true rear coilover like you can get with the ASTs (i.e. the rear spring is in the stock location) and they do not have an inverted front damper also like the ASTs. They do have height adjustability in the bottom damper mount, so raising and lowering the suspension does not increase or decrease shock travel. They do not have helper-springs although you can order them with if you like.
What are Digressive Piston dampers?
(copy and paste from FA's website) Digressive pistons produce a valving profile that is not straight or constant. As shaft speeds increase (thinking hitting a large bump at high speeds) the rate that damping force is created tapers off considerably. Digressive piston design exhibits low flow rate at low shaft speeds that provides a lot of resistance and control. Then the resistance rate increases when shaft speeds increase. Finally, at a preset point (higher shaft speeds) the force rapidly tapers or "blows off". This characteristic works tremendously well when going over large bumps or berms on a race track at high speeds.
What I ordered, ordering experience, and build quality:
I called FA and talked with their technical sales team about my needs and expectations. For me, it came down to the 510s or MSC Mullers. The 510s were a bit more track-oriented, and the mullers a bit more street. Since most of my driving was back roads and occasional track time we both figured the Mullers would be my best bet. They're extremely knowledgeable and helpful, answering all my questions. After figuring out what I wanted, spec-wise, he asked if I wanted to order over the phone and I said I'd just get them via ECS. He said that would be great and thanked me.
I ended up with FA MSC Mullers with 9kg front and 11kg rear (500lb/in front / 615lb/in rear) Swift springs, more on springs rates later though. I ended up ordering through ECS Tuning for no other reason then I wanted to pay with PayPal because I had just sold a bunch of old parts from my previous M3 and had money in that account. I called up ECS and told them what I wanted and they created a custom sku for me to click on and order and about 4 weeks later a box shows up at my door.
They came well packaged with a hand-signed certificate of assembly/warranty card "built by blah blah on blah blah for Liam821", tools for adjusting, an installation manual, and some stickers.
Here are some pictures: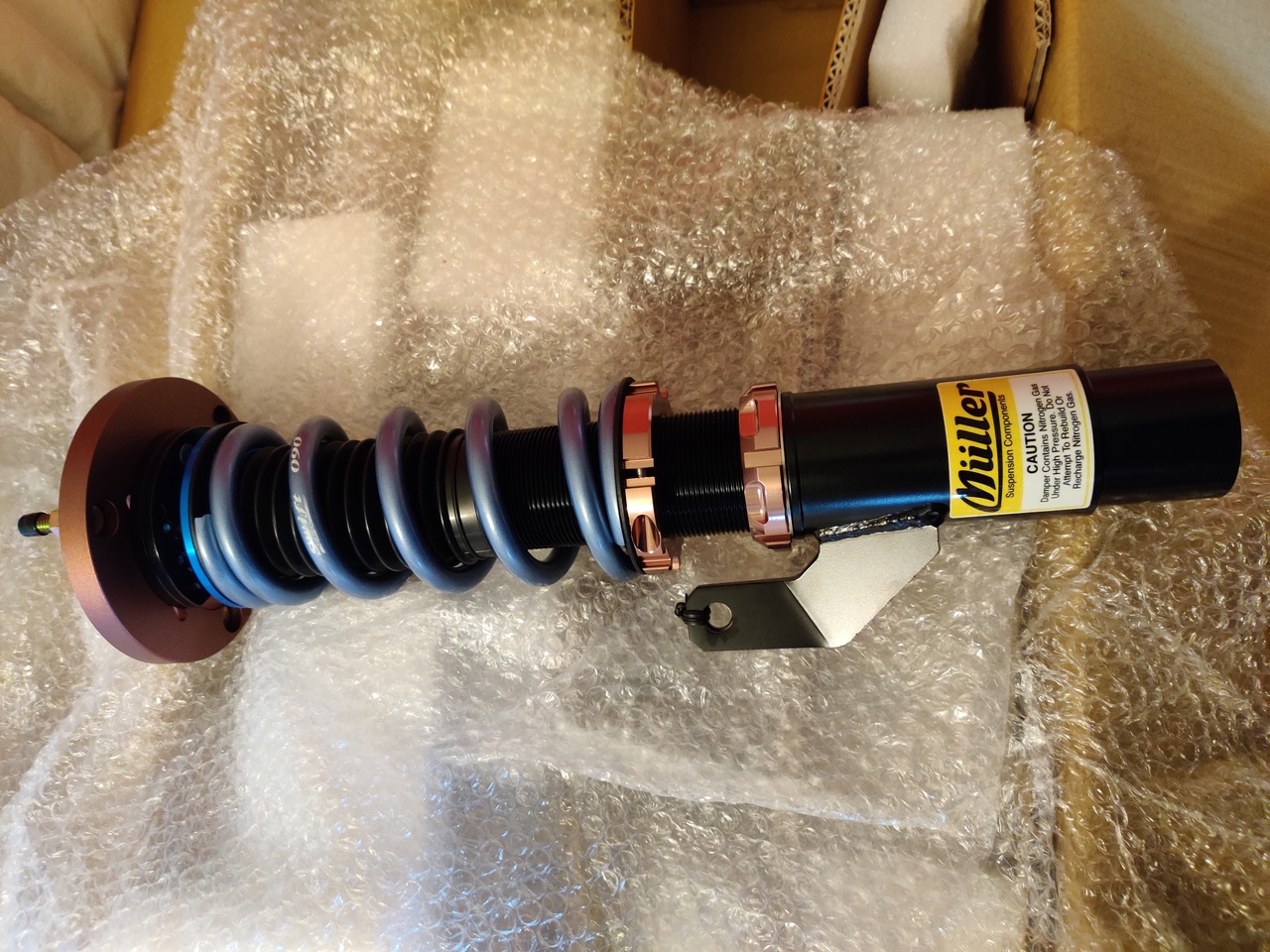 Alumunum T6 6061 camber plates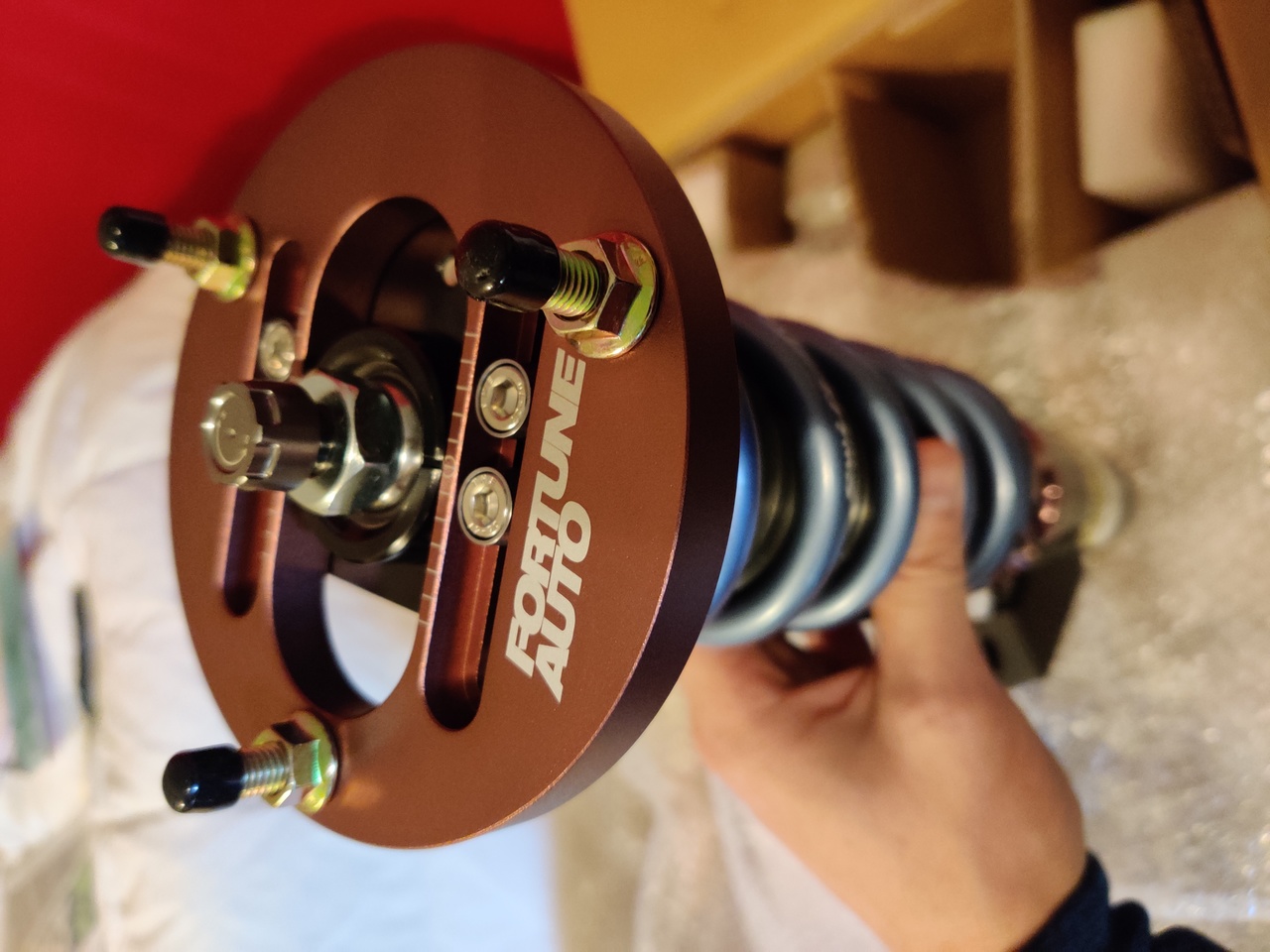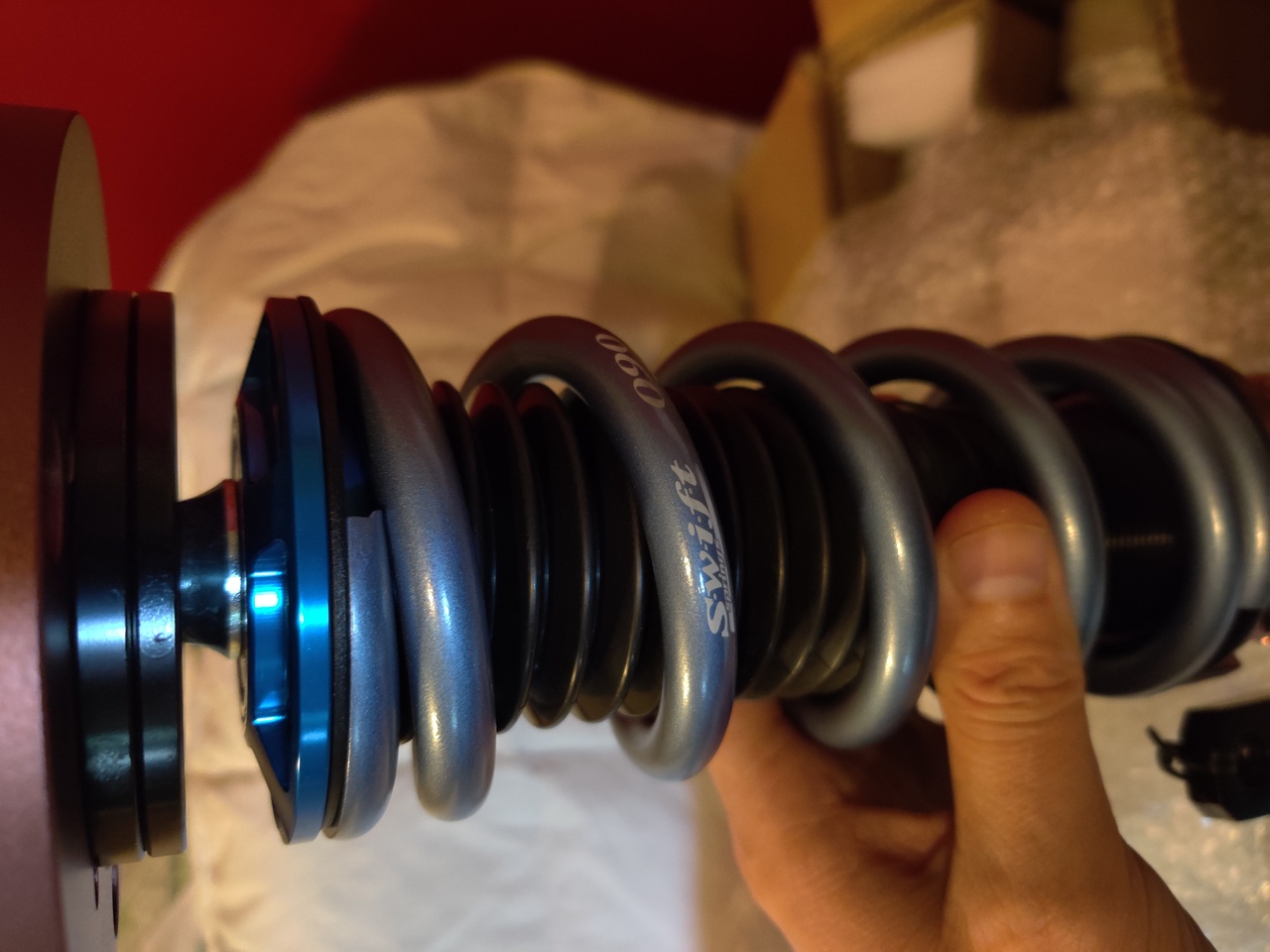 Rear damper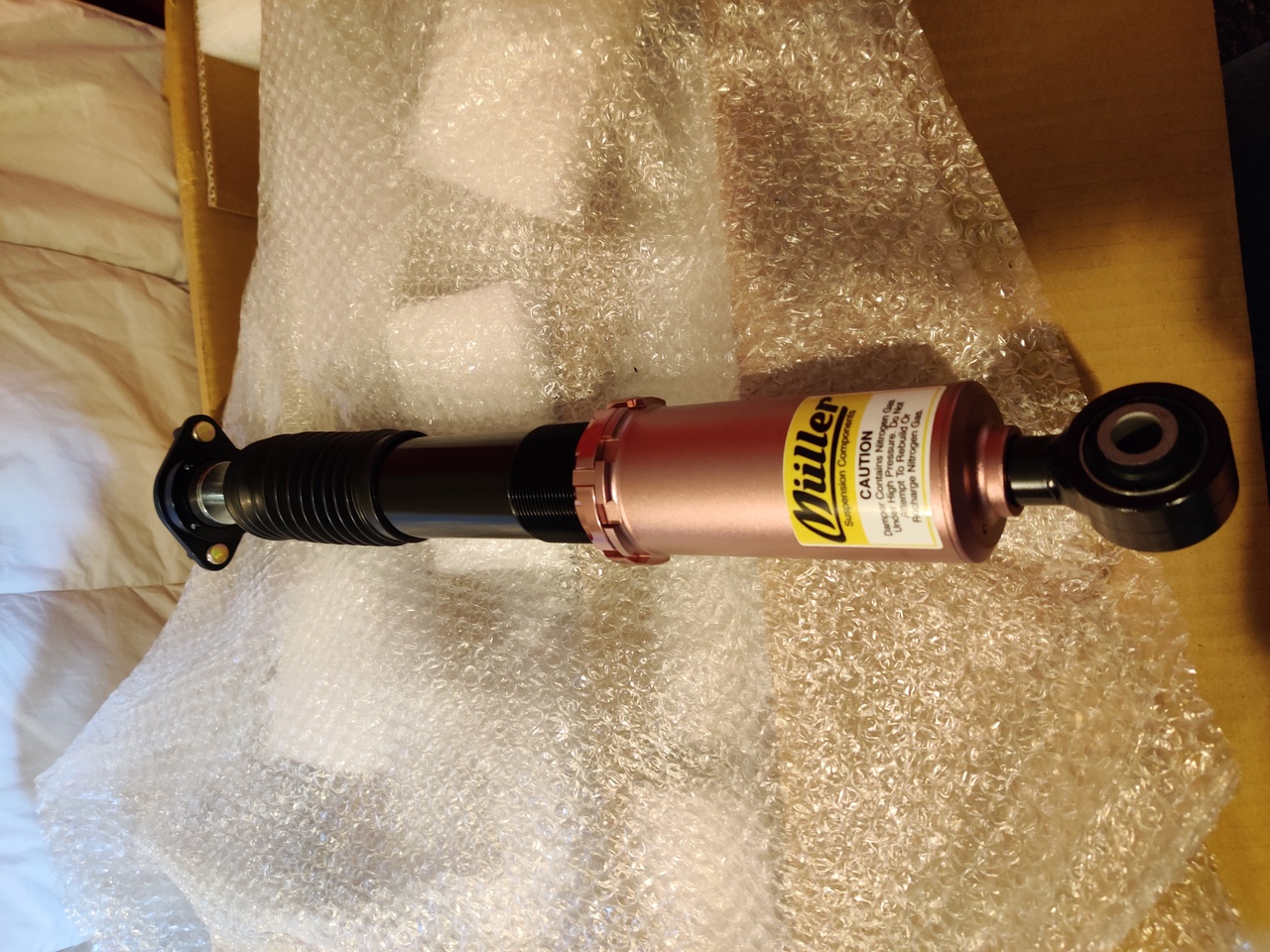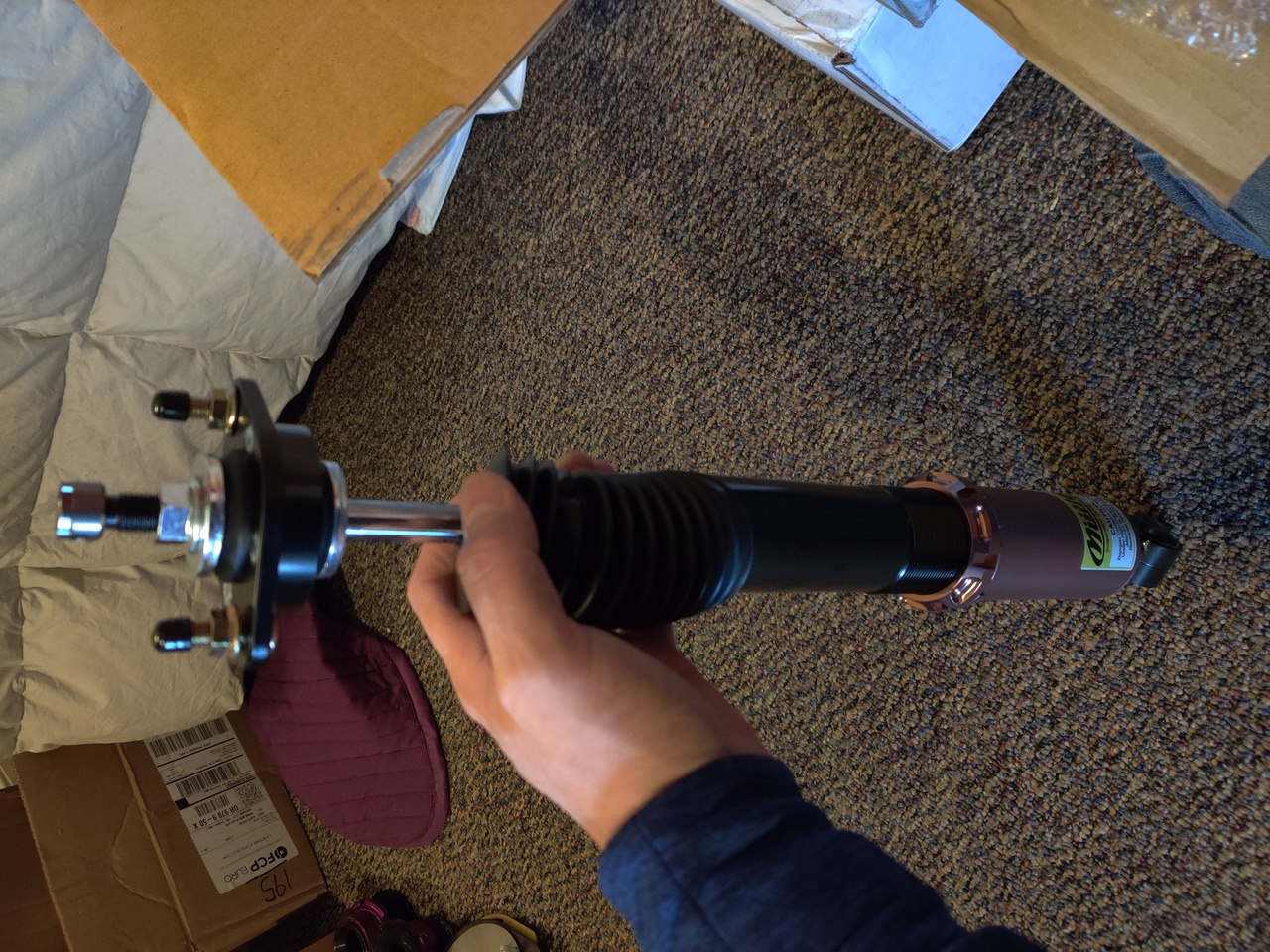 Rear spring height adjustment perch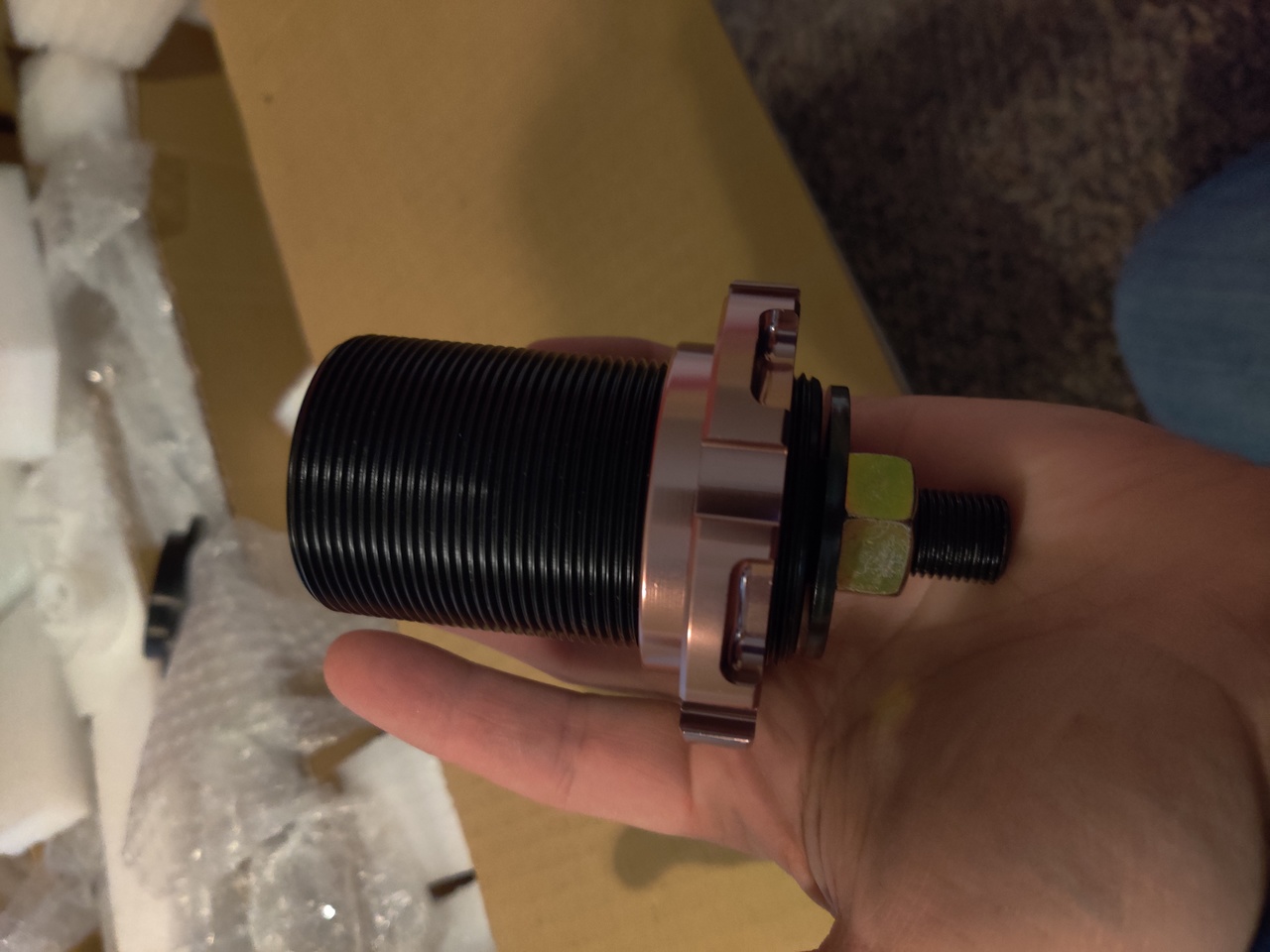 The following pictures were taken after I took apart the suspension to install a new spring isolator. So they had about 1000 miles of use on them - that's why they're a bit dirty.
While some parts are very pretty, like the top camber plates, other pieces aren't as nice. Some parts are welded together, not billet pieces like some of the other kits. A perfect example of this would be the front damper bottom height-adjustable/swaybar mount. While I'm sure that weld is strong, it's not very pretty.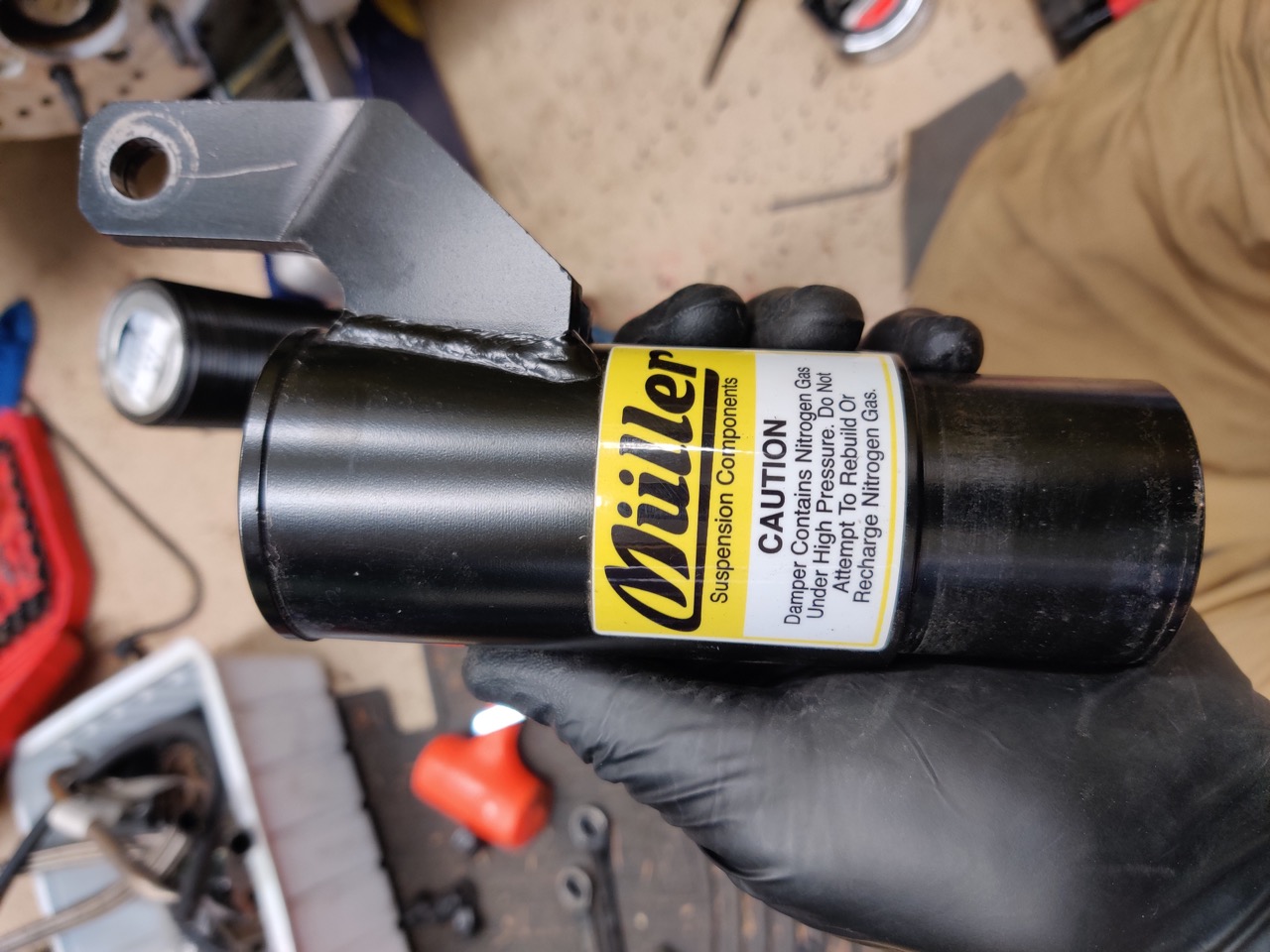 Front damper without mounting collar - alllll the adjustability.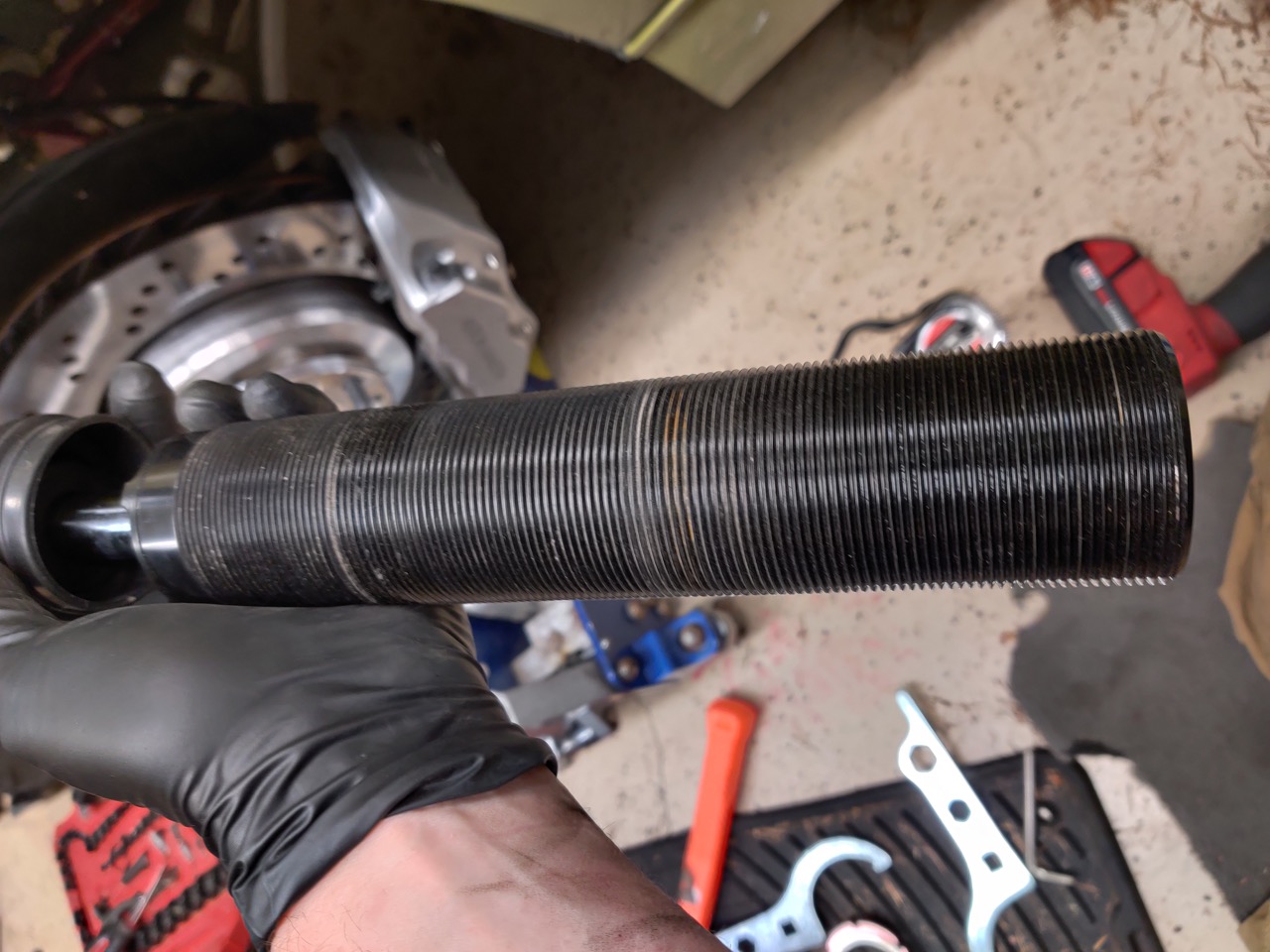 Front camber plate pillow mount and bottom of the camber adjustment. You have a lot of camber adjustability.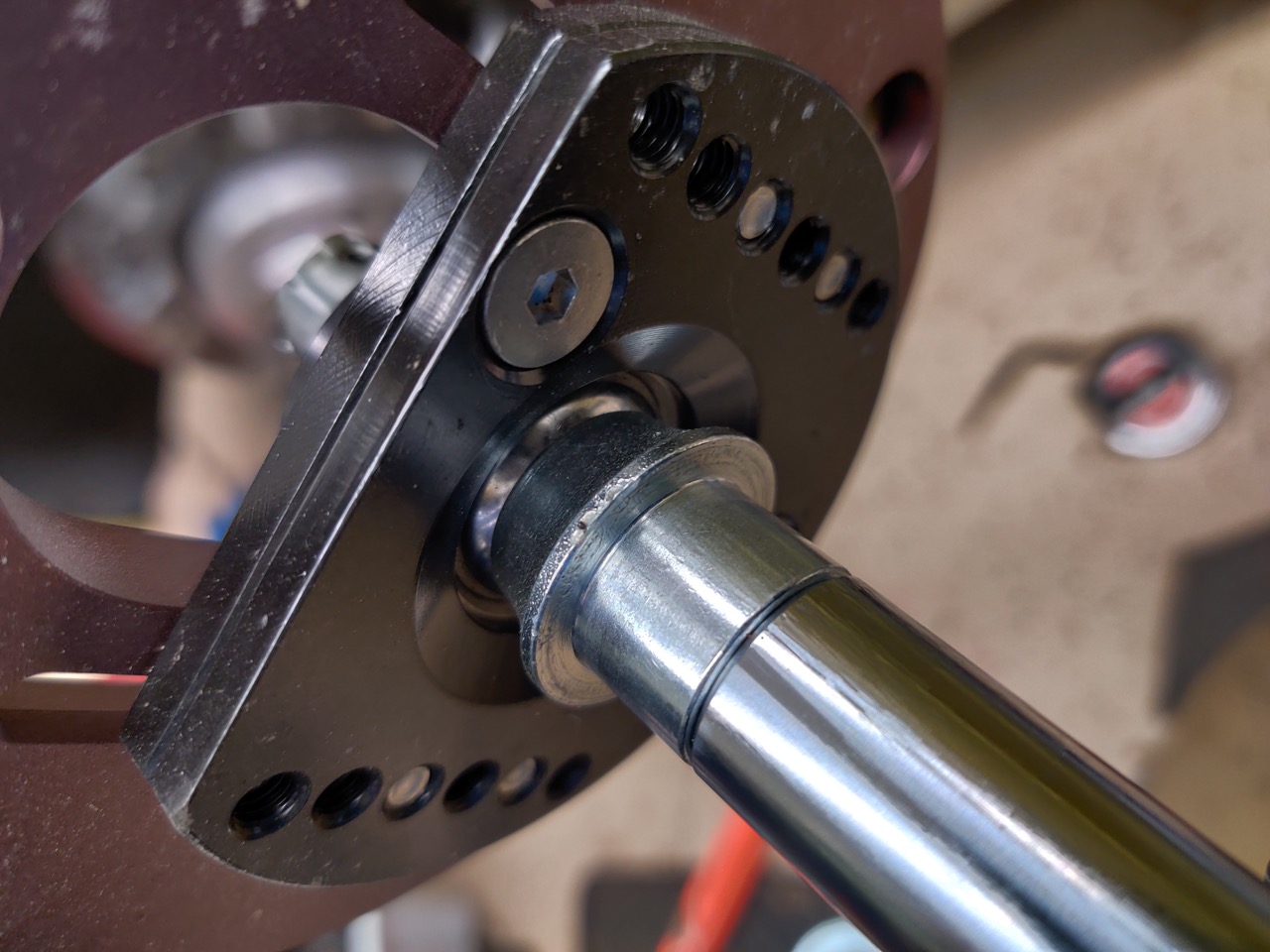 Top spring holder, anodized blue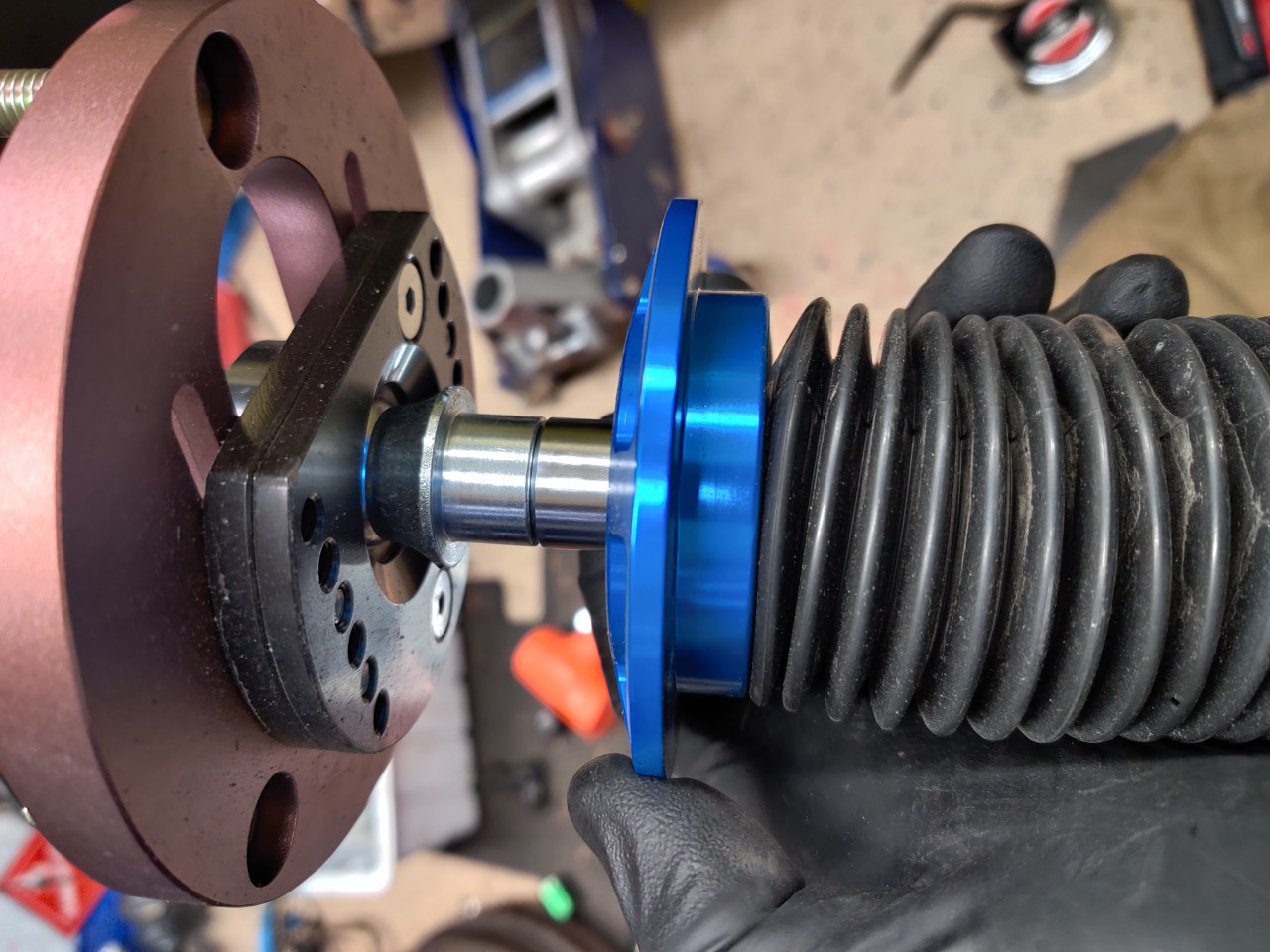 They use off-the-shelf Swing Springs in whatever size you want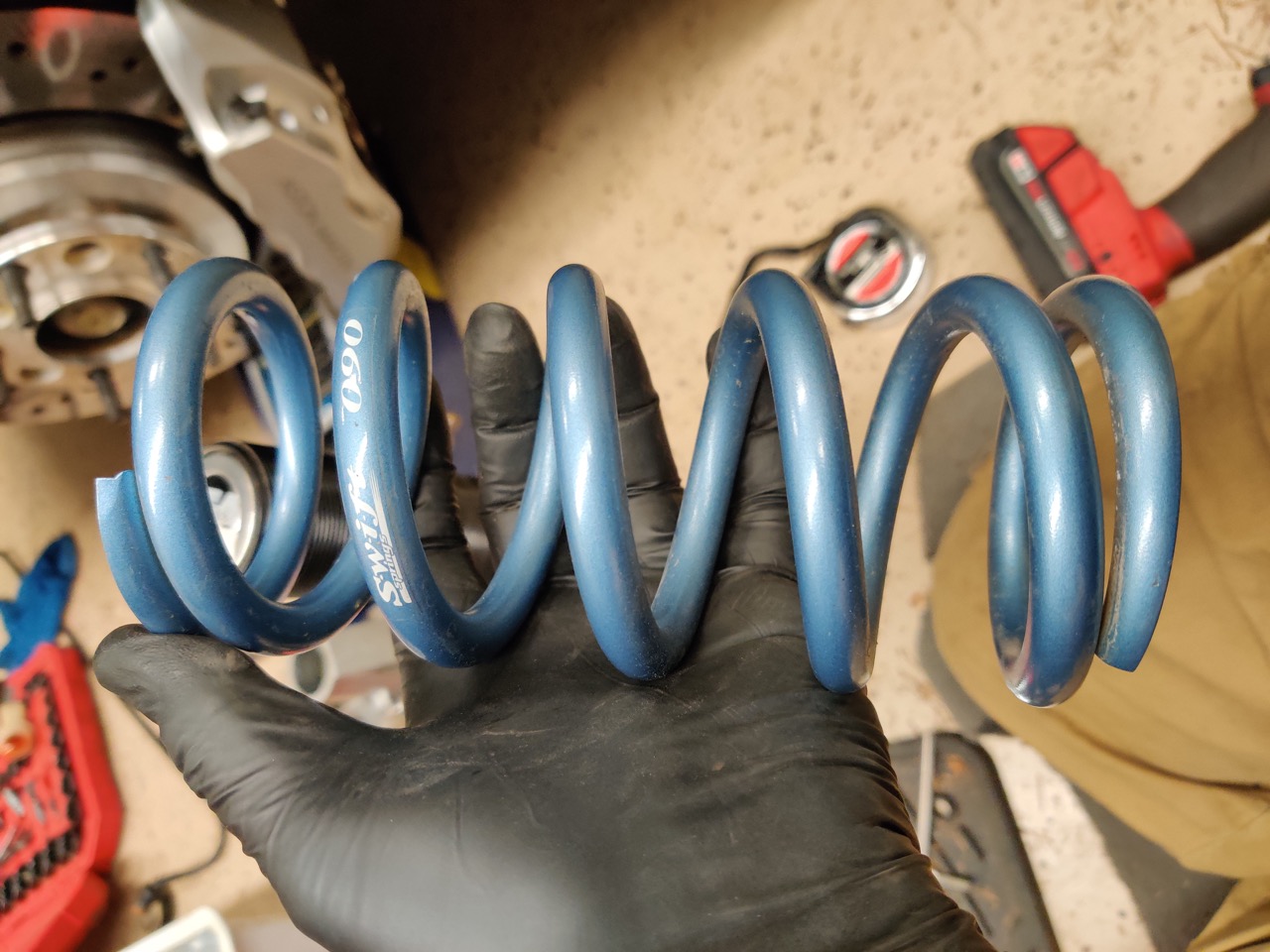 Install experience:
Not much to say here, if you've installed a set of coilovers before, these are like those. However, the manual isn't very detailed and not specific to the e46m3 so you're on your own if you've never installed a set of coilovers before. But everything bolted up easily with no modifications needed.
My setup:
04 PY, SMG to 6MT converted, non-ZCP
FA MSC Mullers 9kg/11kg (500lb/in front / 615lb/in rear) Swift Springs
Turner Poly 80A FCA bushings
Stock RTAB bushings with limiters
Ground-Control rear camber arms
Ground-Control "race" front swaybar
Stock front re-enforcement plates
Puretech Sweden RACP brace and rear subframe enforcement plates
Aston Martin DB9 front calipers w/ OE CSL rotors
Porsche 911 rear calipers w/ OE CSL rotors
Stock engine drivetrain
Michelin PSS 245f/275r on 19" ZCP wheels
12mm spacer in the front with -2.5 camber
Adjustability and first drive:
Adjusting each damper is fairly easy. The spring perches are easy to move, adjust, and tighten. You can adjust height without messing with preload - neat. The front camber plates are decent, they're easy to adjust +- a few degrees, but at the extreme adjustment ranges you need to remove the set-screws and move them forward or back so they have clearance for tightening in the top of the strut tower opening. Having the set-screws stay in place and just the under mounting plate slide would be an easier design. But with that said, they do provide a large range of adjustability.
Adjusting the damper firmness is easy. There is a knob at the top of each damper, so you adjust easily from the top of each strut tower. You don't have to go under the car. I don't have my rear carpet in the car so its easy to get to the rear ones. If you do have the rear carpet, FA sells an adjustment extended which are flexible so you can stick that up through a hole in the carpet if you like.
These things can go low, like really low. Shockingly low. Before I adjusted the ride height I set the car down on its wheels to figure out much I need to go down or up, lets just say I had some mega-stance levels of lowness.
After guesstimated the ride height, I set the damper at 2 clicks from full-soft front and rear and went out on the first test drive. The car was still a bit too low but I figured I'd go out for a quick drive anyway. The first drive I was amazed at how soft and streetable they felt, even with 9k front and 11k rear springs. They have tons of suspension travel - like never-ending suspension travel even with the car being too low and having way to much front camber.
That ride height tho...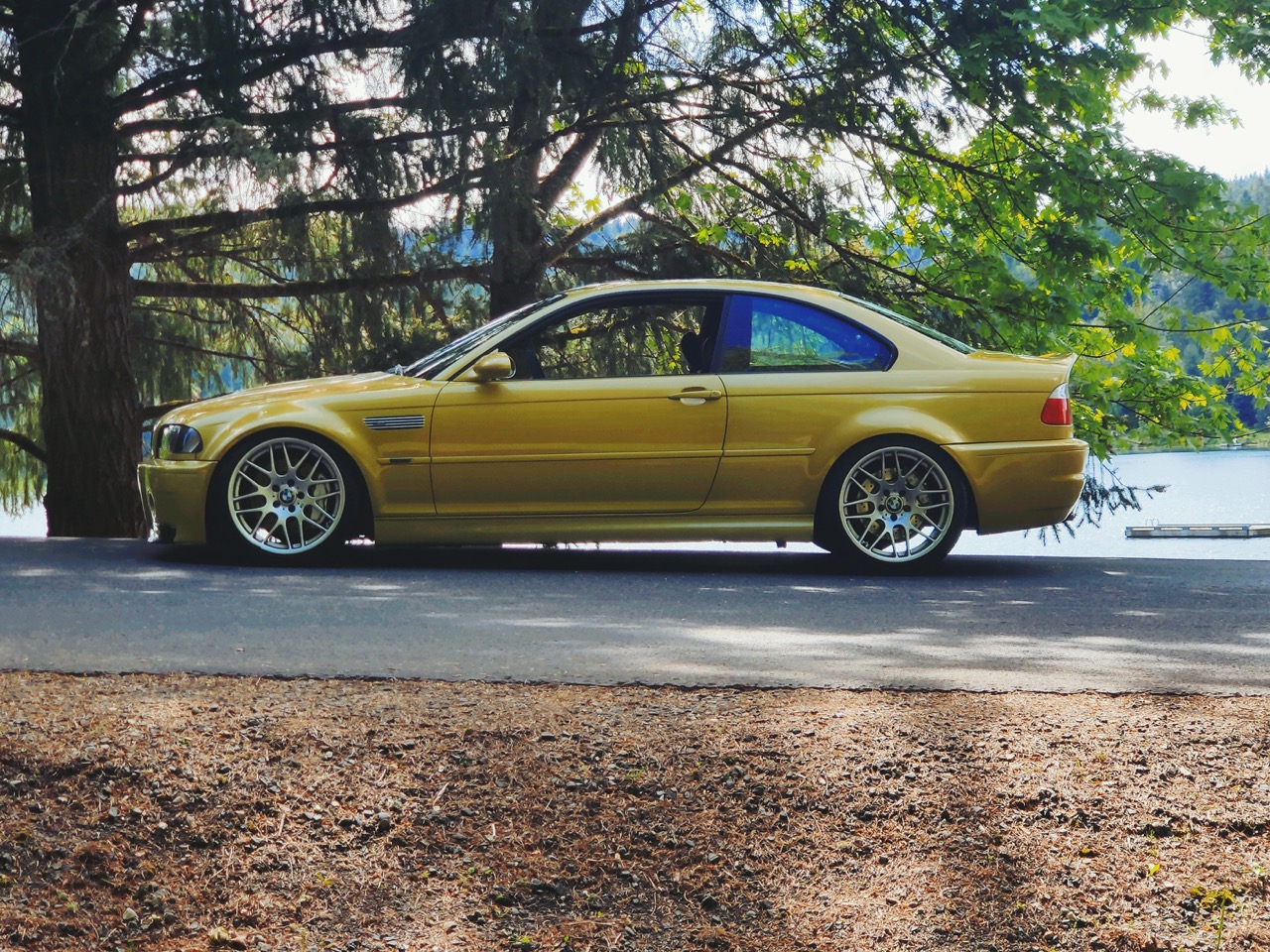 More adjustments and 500 miles later:
I raised the car up a bit in the front, set the front camber at -2.5 degrees, and started to play around with the damper adjustments. I'm impressed at the range of adjustability the dampers have. You can go from soft to rock hard in seconds. I should have spent time with the flat ride calculator before I ordered my FA's (I didn't know about it when I ordered my kit), my springs-rates are not "ideal". Either way, I ended up with 12 clicks in the rear from soft, and 4 clicks from soft in the front. This makes for a really nice ride, no bucking or pitching of the suspension, but I still wish my front spring was a tad softer and dampers a few clicks stiffer.
Current ride height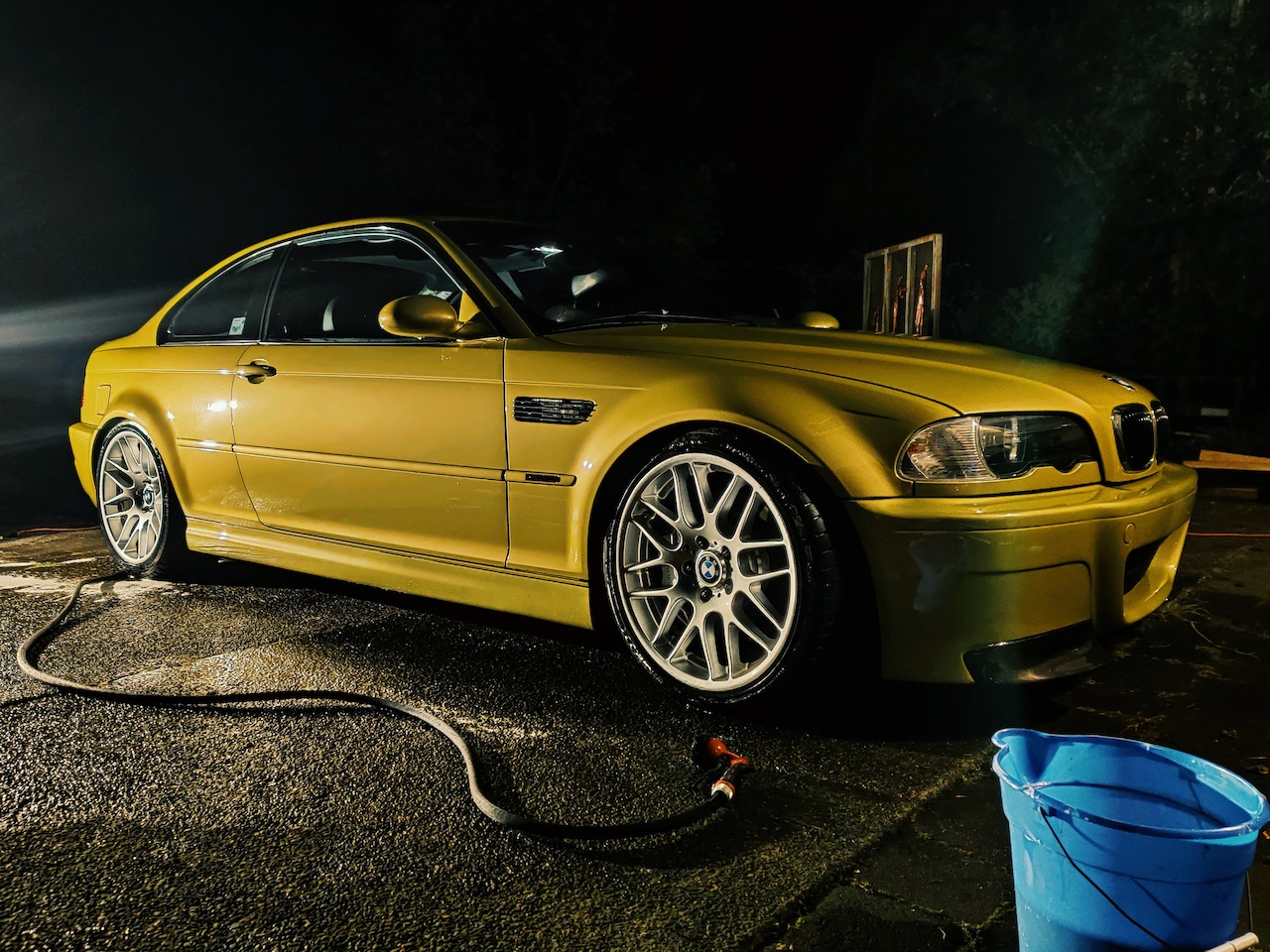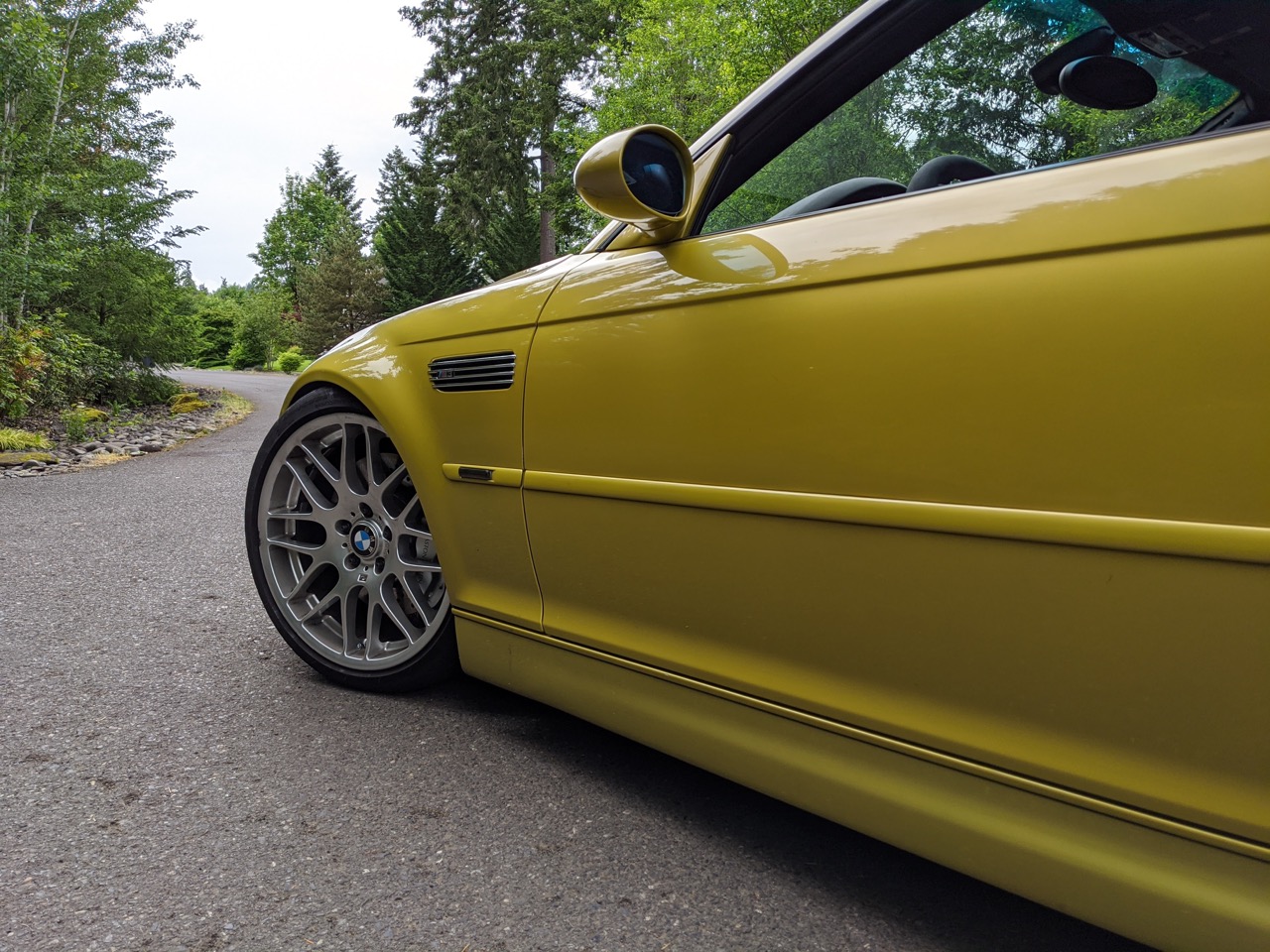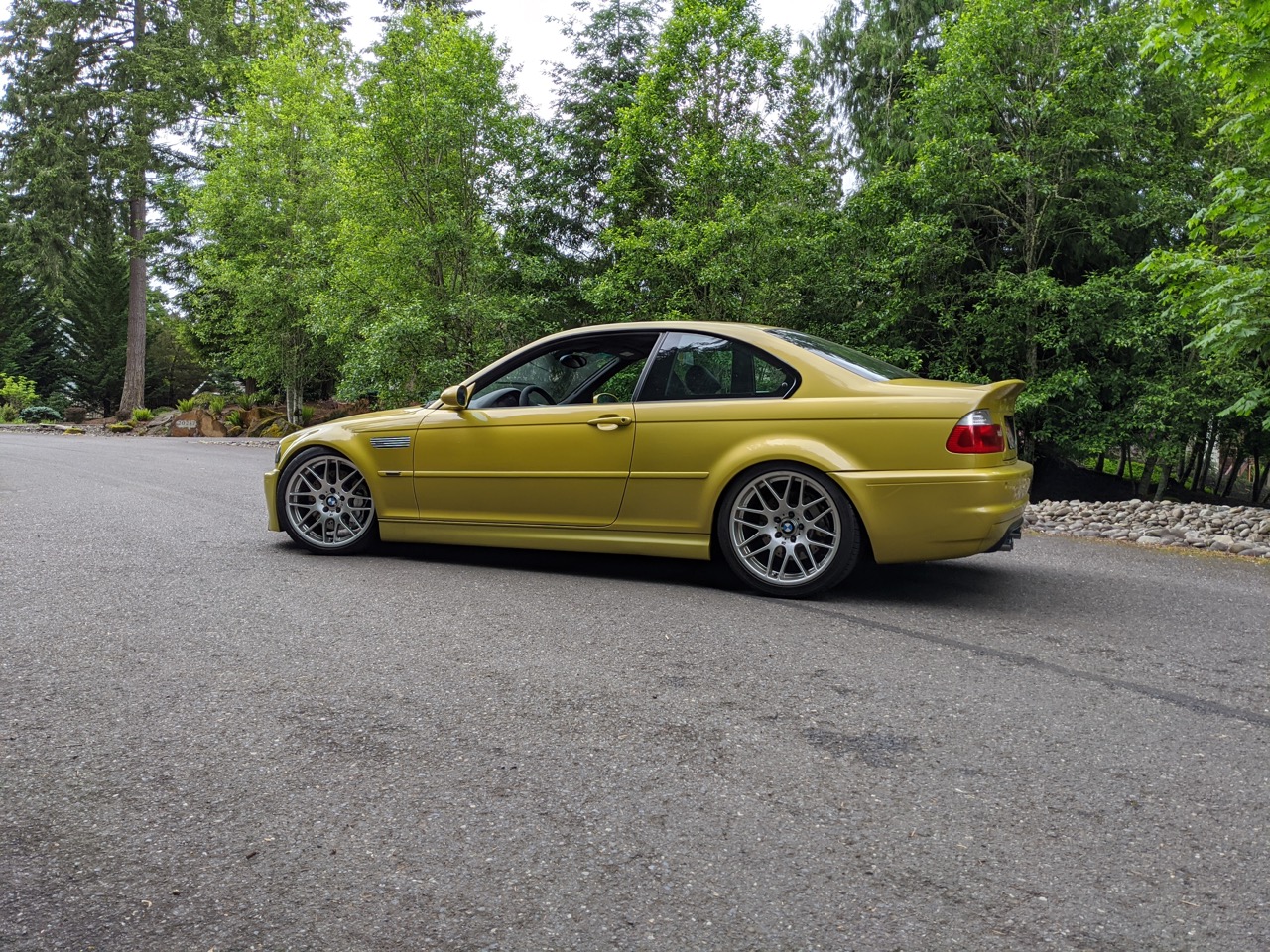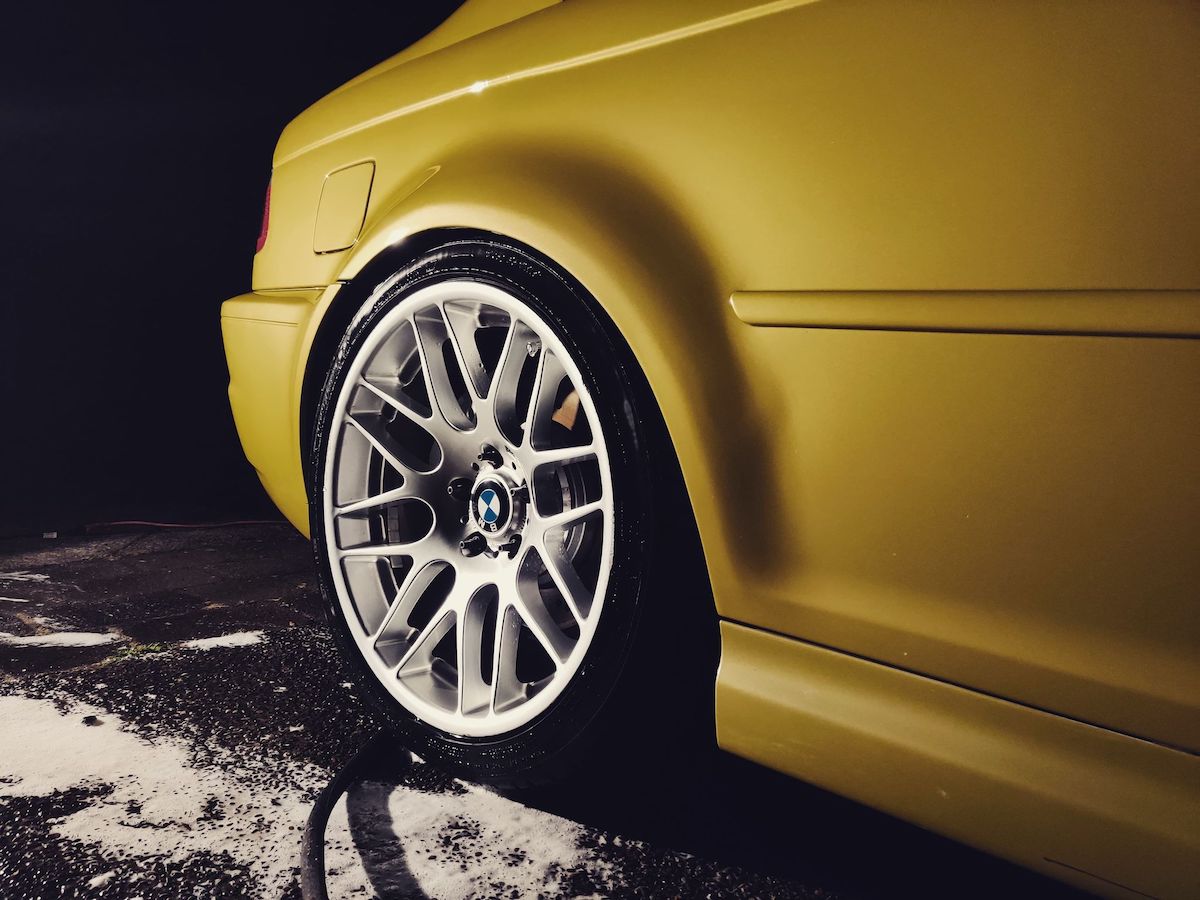 I live in the back county in Oregon, our roads aren't the best in the world. I'm constantly surprised at how much suspension travel these dampers have, they do not have bump-stops and you'll eventually hit coil-bind, but how can they have so much travel with my ride height - magic I tell you. There is one particle bump that the KWs and PSS9s I had before would just crash into the bump-stop and you'd feel like the coilover was going to fly through the hood, but not the FAs. Hitting large bumps just never upset the suspension thanks to the digressive design, you can really feel them doing their job. You really have the best of both worlds, the ride around corners is flat and controlled, but you can fly over bumps and dips in the road without thinking twice. I love driving fast on bad back county roads and the suspension does a fantastic job of soaking up bumps.
On the freeway, they're soft and comfortable. They don't jitter around or pogo back and forth. You could drive this car all day on the freeway and be fine. Swift springs are a very "comfortable" spring.
Let's talk about NVH. This is an area that the FAs don't score so big at, IMHO. The camber pillow mounts mean the suspension is directly connected to the shock towers and you feel and hear everything. At slow speeds over poor roads, the suspension crashes around and you can feel and hear the springs moving. Road and tire noise overwhelms the NVH at about 20-30mph and all is forgotten, at least until you slow down again. Going down my driveway it feels and sounds like a wheel is loose. Driving around town isn't what this suspension is designed to do and it shows.
30th drive and more thoughts:
I'd like to go down to a 7k front spring as I think that will give me a bit more adjustability and be closer to that "flat-ride" harmony. While I'm happy with what I have now, I'm hoping the softer front spring will let the harmonics of the car work in my favor.
The NVH is still annoying. While I don't notice it most of the time driving, just going down my driveway first thing it's like "HEY you're in a race car!!!!"
I swapped the 1mm thick plastic bushing between the spring and camber plate with an energy suspension coil isolator 9.6121. I was hoping this would help with a bit of my driveway crashing, and it did indeed help some. Although you can definitely feel it added a bit of squish to the front suspension. I took a few pictures of that progress here...
after 1000 miles of use - you can see the small bushing under the top blue anodized piece on top of the spring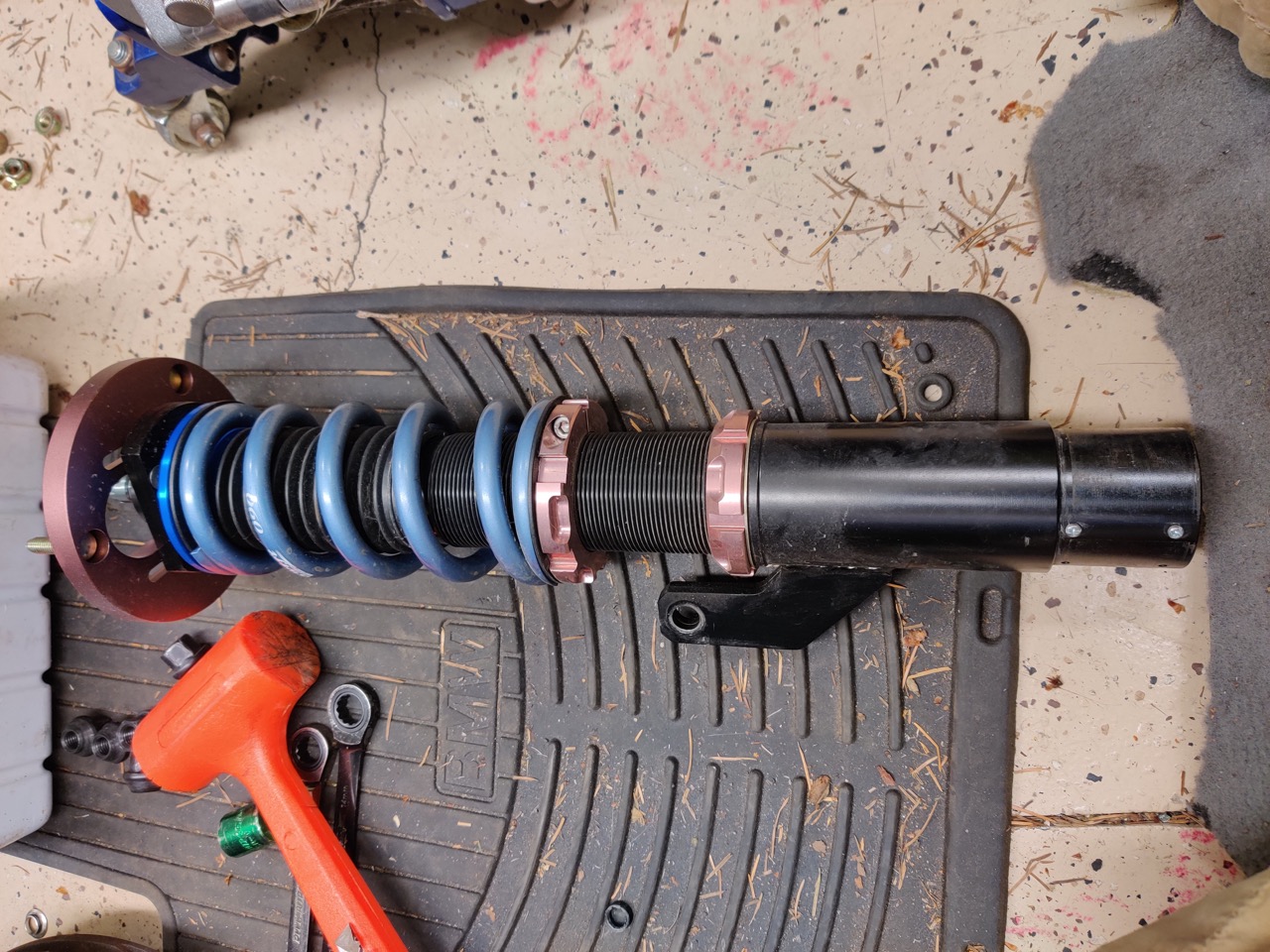 Unscrew the bottom damper height-adjustable collar.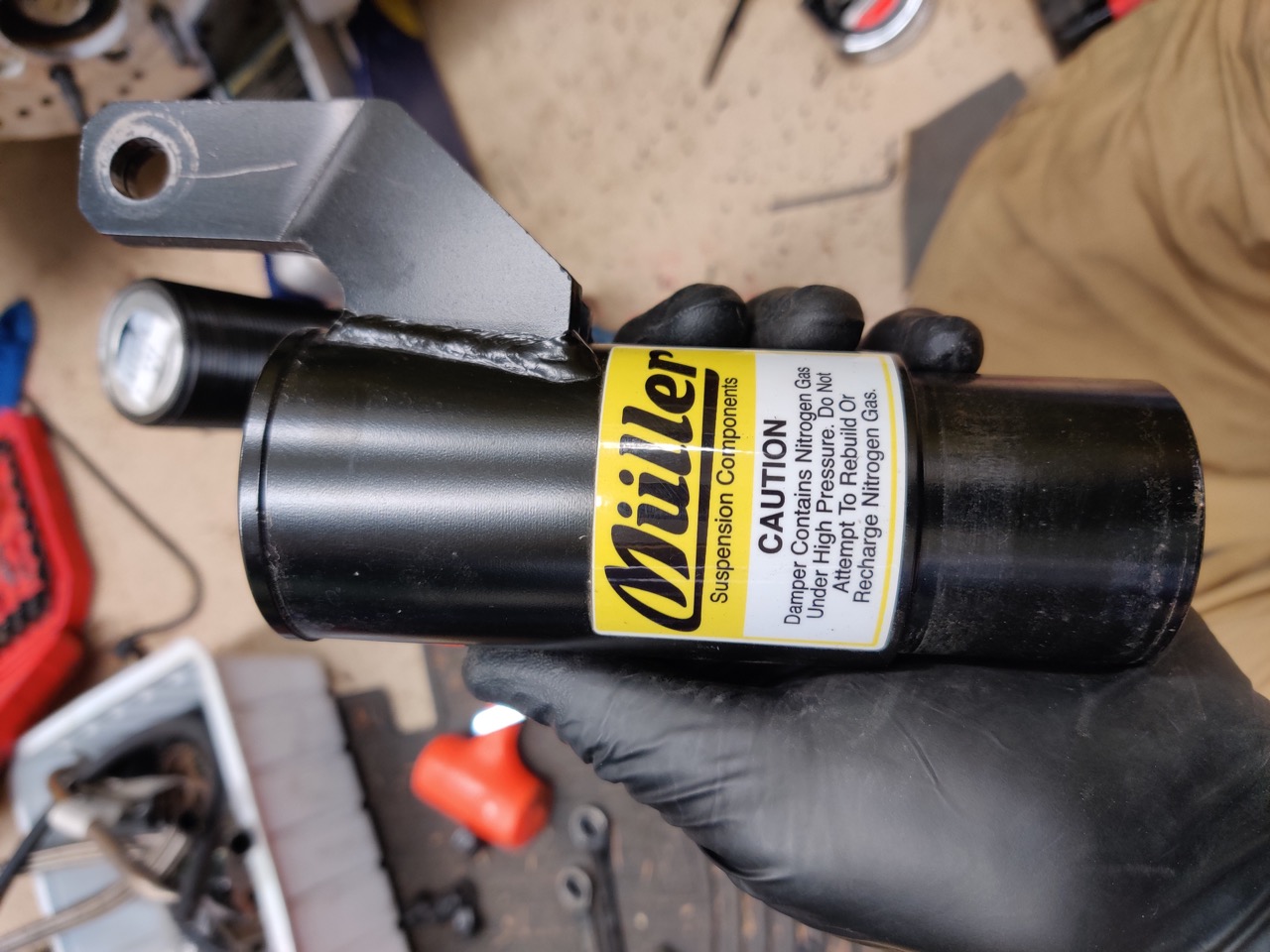 Unscrew both height and preload adjustment rings (the purple rings)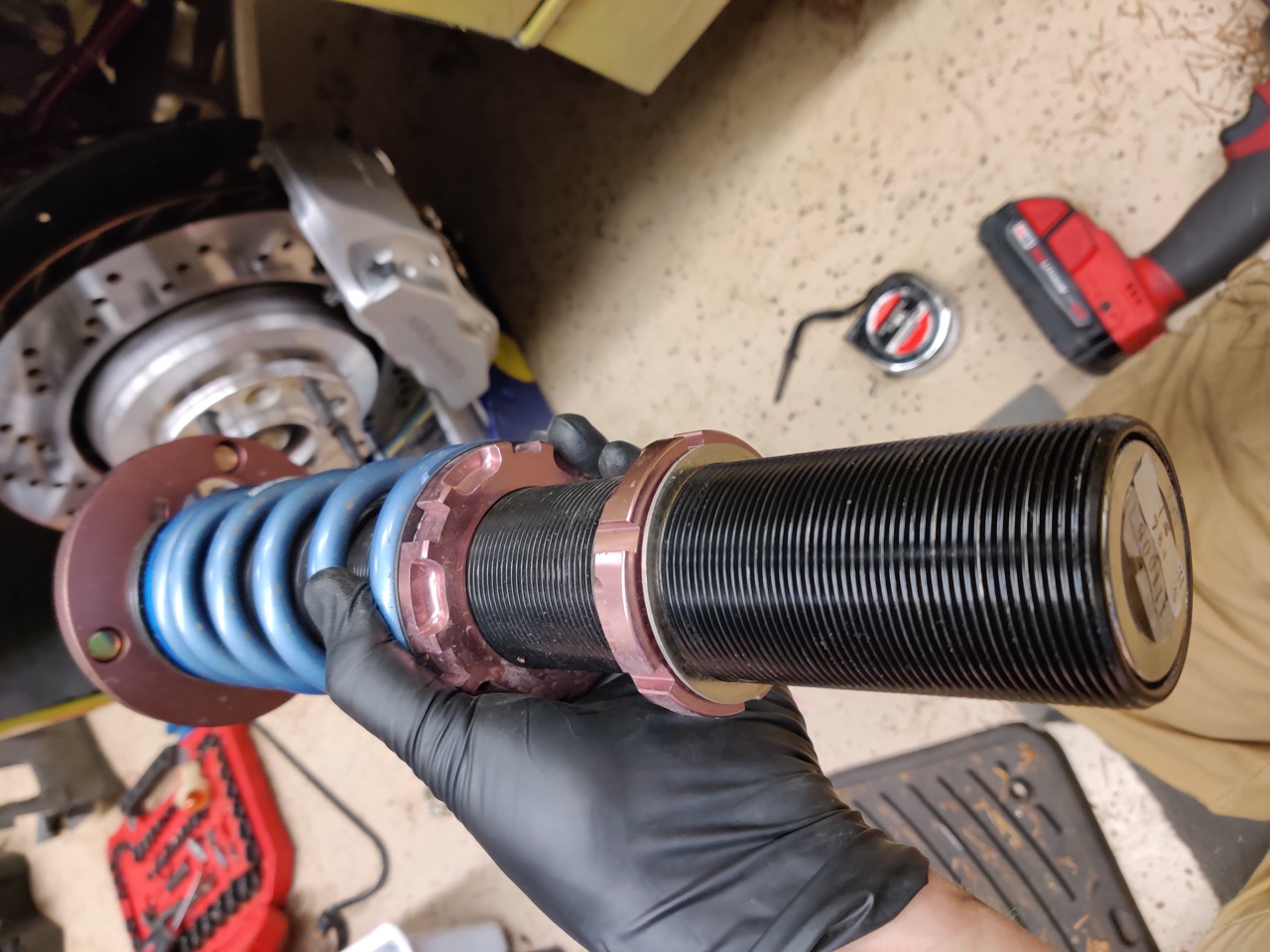 Energy Suspension coil isolator installed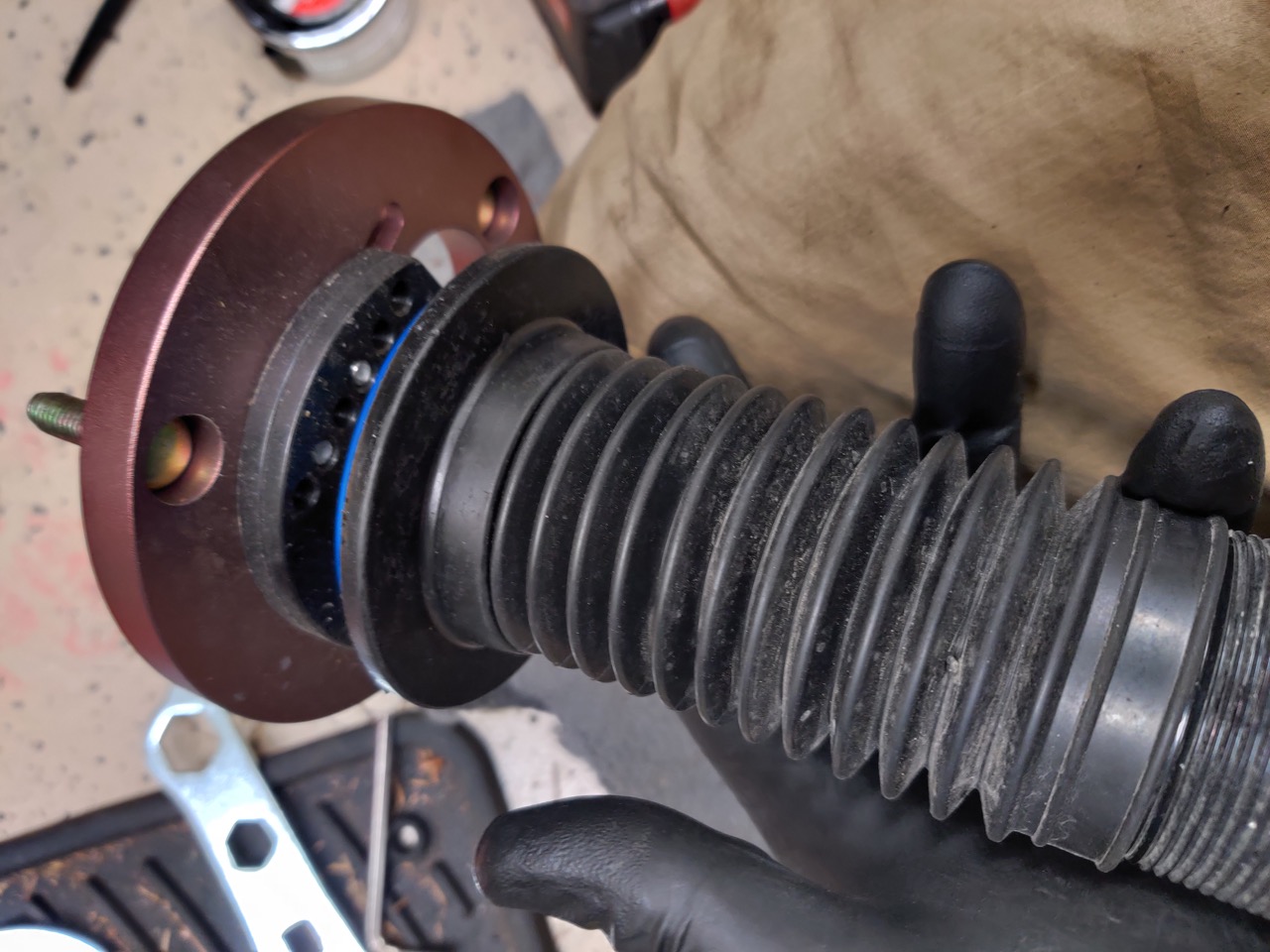 The wife test:
"What is that noise?" as we drove down the driveway for the first time...yeahhhh
"It's very sportly feeling compared to the [e93m3 with stock suspension] red car" as we drove out of the country towards the city
"This feels really low compared our i3 or X5" she just doesn't ride in the e46 very much, its such a small car compared to our others
At speed though there were no complaints. On the freeway, as I mentioned before, no complaints, and nothing was said. All in all, I'll give it a pass.
Final thoughts:
Overall, NVH/city driving aside, I'm happy with the suspension. The bulk of my driving I'm grinning ear-to-ear, and the rest of the time I just pretend I'm in a race car with a license plate.
It's hard to recommend this suspension because I think you need to be the right type of person. You really need to understand springs rates and should really spend some time with the flat-ride calculator, and have the patience it takes to set up the suspension correctly - or have the money to let somebody else do all that for you. If you just order the "off-the-shelf" specs you may or may not be very happy. And while FA sales support is excellent in helping you with spring rates etc, in the end, it's your car and only you really know how you like it. For about the same money, the Bilstein PSS10s are probably a better buy for most people - it's a great out-of-the-box suspension setup with stock-like NVH and OEM++ ride. But if you're that 1%, these just might be for you.